This one-off day seminar is the first lecture of its kind to be held in Stoke. The seminar draws from the extensive archive of Dr. Richard Talbot, covering a period when Pagan worship and possible sacrifices were held in Stoke – up to present day Stoke Minster. Dr. Talbot's full press release for the event can be found below: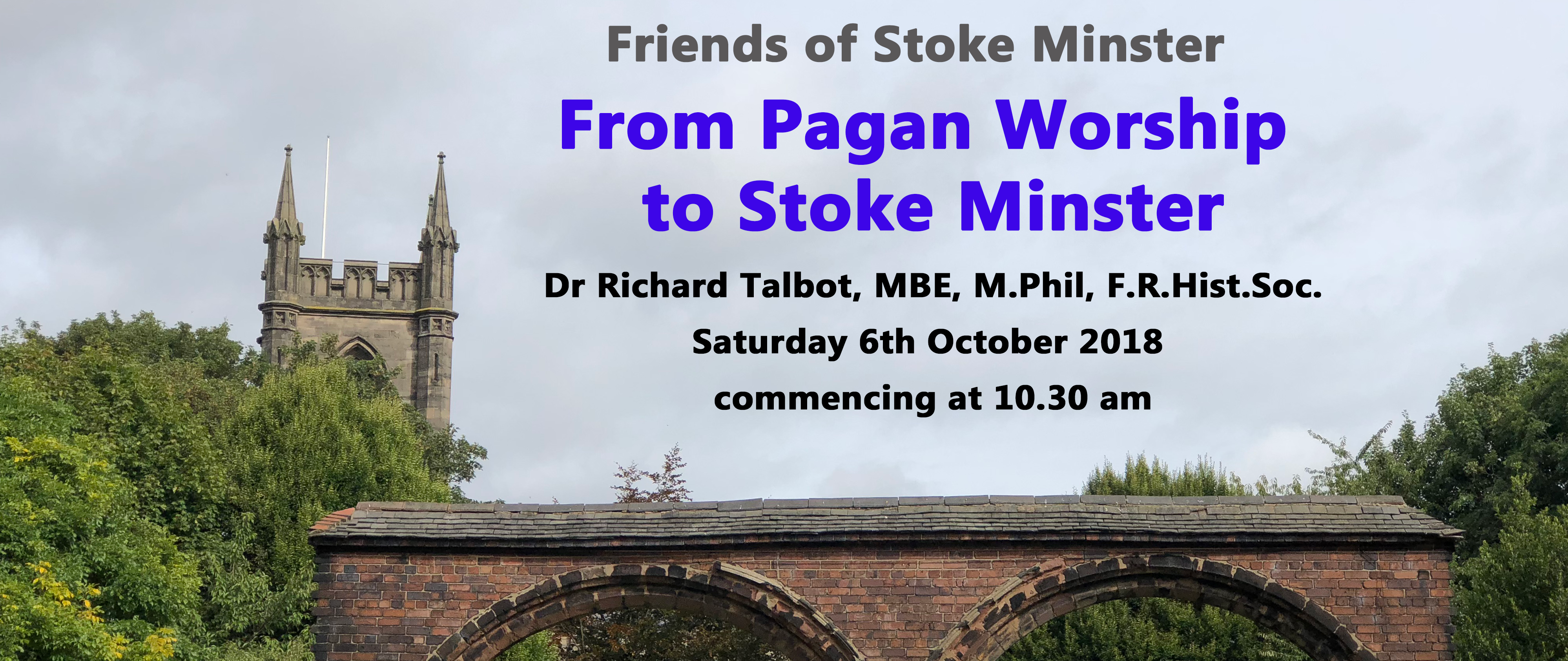 The seminar commences in the morning with coffee followed by a tour of the churchyard where once a moated druid-circle may have stood, to the early first stone Saxon church, the Saxon cross and font to the Norman Church, its demolition and the creation of the present stone arches. Only recently Dr. Talbot has discovered the location of many other stones relating to this Norman Church – in a garden at Hartshill! The facts behind this stunning discovery after all these years will be fascinating to hear and to see the pictures.
The churchyard contains numerous stones and tombs of many of our famous potters. Dr Talbot will locate those now hidden of Thomas Whieldon, the father of the pottery industry and his family. Many new facts have been gathered regarding the ancient traditions of the Wake, how the old church was organised and importantly discussing the old churchwarden's accounts and Bishops visitations which present a new insight of life in a different time-zone. The list of Rectors forms an integral part of Stoke's history as many never even came to Stoke but were appointed by the Patron because of favours thereby in return to receive an almost Kings-Ransom.
The growth of the Potteries brought with it pressures upon the church and as a result in 1807 the church was divided to create several separate Rectories based upon the old Churches of Ease leading to in excess of twenty parishes stretching from Norton in the Moors to Caverswall which in the 13th century was the most-wealthiest parish in the country. This wealth extended into the 19th century as the rector received annually an income from Tithes amounting to what would be today several tens of thousands of pounds. By the early 19th century the old church found itself impossible to maintain services as it could not contain the huge influx of workers to the Potteries. The 14th century leper hospital and the parish first poor house are to be discussed.
In 1830 the present church was built on glebe land to contain more than 2000 persons which was the turning point for the parish whereby the custom of church tithes was re-implemented to the fury of local residents with protests, petitions and posters against the plan notably those from the Duke of Sutherland. These were to finance other churches such as St. Marks, Shelton and St. James Longton but somehow the church ended up £9000 in debt. The churchyard itself has its own story on where to bury and importantly how to stall grave-thieves.
The seminar is wide-ranging and places should be reserved in advance as numbers are limited. Sign in 10.30 a.m. with coffee commence prompt at 11.00 a.m. Bring own lunch from 12.30 with tea or coffee provided. Recommence at 1.15p.m. close approx. 3.00-3.30 p.m. Cost £5.00. Reserve your place now at: drrichard.talbotmbe@gmail.com. More information Tel: 07962143131