In his latest 'Yours Faithfully' column, Saltbox Church Liaison Officer Tim Lucas looks at Armistice Day and recounts the story of the 'Unknown Warrior'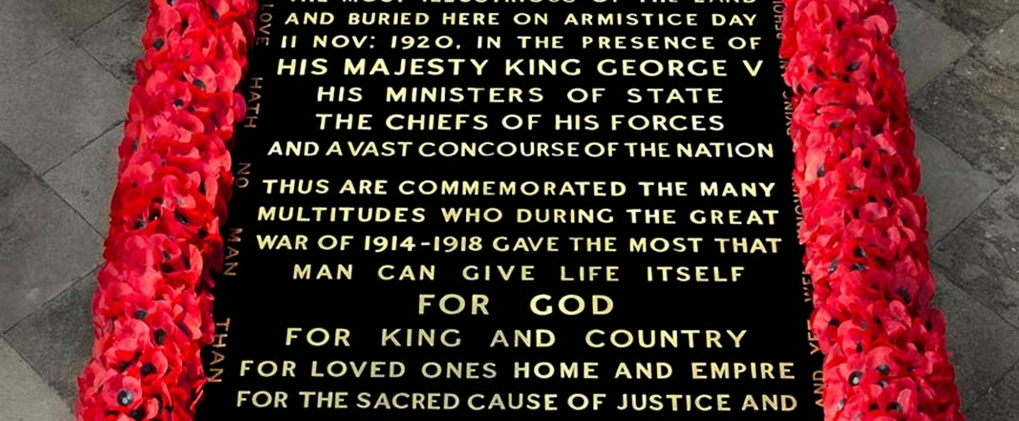 On this day in the year 1920, four bodies were exhumed from a battlefield in France and presented to Brigadier L.J. Wyatt and Lieutenant Colonel E.A.S. Gell of the Directorate of Graves Registration and Enquiries. Each of the bodies was placed in a plain coffin and covered with a Union Flag. Brigadier Wyatt then closed his eyes and rested his hand on one of the coffins. The other three were reburied, and this selected body was transported to Britain and, on Armistice Day, placed in Westminster Abbey.
The grave of the Unknown Warrior is today one of the most visited war memorials in the world. The original design for it was that it should serve 'to represent the many hundreds of thousands of Empire dead', and should rest among kings as a sign ofhonour and respect.
The man responsible for finding a suitable body was the Revd George Kendall, who served as army chaplain in France during the First World War. He never revealed whether he knew the identity of the soldier, and even kept a secret of which field the body was exhumed from. In some of his final thoughts he wrote, 'The location can never be revealed, but again I stress this great fact – the soldier lying in Westminster Abbey is British and unknown. He may have come from some little village or some city in this land, and he may be the son of a working man or of a rich man, 'Unknown to man, but known to God'.'
For the Revd George Kendall – that is to say, for Christians – this is a resonant truth. Though a person may be unknown to people, they are still known to God.
There are many people in many circumstances, and certainly relating to war, of whom we could say this.
There are many soldiers who fought and died in the First and Second World Wars, and in all conflicts since. There are many innocent civilians who will have died as a result of wars and conflicts. There are many who live in fear of their own home because of a regime that has taken all it can and given nothing. There are many the world over who are displaced and fearful because of wars taking place all around them. There are many concerned family members and friends who anxiously wait to hear some news about a loved one fighting in the Forces. There are many broken families who have had to live with the great pain of grief after a loved one has been killed.
Some of them we will know, and some of them we could name. But others are unknown to us, and perhaps always will be.
As we approach Armistice Day, which this year falls on Remembrance Sunday, we might want to take a moment to thank God that nobody is truly unknown. Whoever they are, whatever they have been through, whatever they have seen, whatever effects it had on them, he knows. To him, all hearts are open, all desires known, and from him no secrets are hidden.
As we think about the dreaded effects of war, we might think of the Unknown Warrior and Revd George Kendall's words, and be grateful that even when our knowledge reaches its limits, when names evade us, when details are not firmed up, when we cannot imagine what it must have been like for those people, the eternal truth is that even when details or people are unknown to man, they are known to God.
Tim Lucas (Saltbox Church Liaison Officer)