VACANCIES
Thank you for your interest. 
Please visit the new Saltbox vacancies page, available here. 
.
VOLUNTEERING OPPORTUNITIES
We have the following Volunteer opportunities available – for full details please click here
Keep In Touch Caller (KIT)
Chatty Cafe Assistant
KOKU Digital Exercise Assistant
Connect Club Digital Support
Face-to-Face Supporter
Volunteer Drivers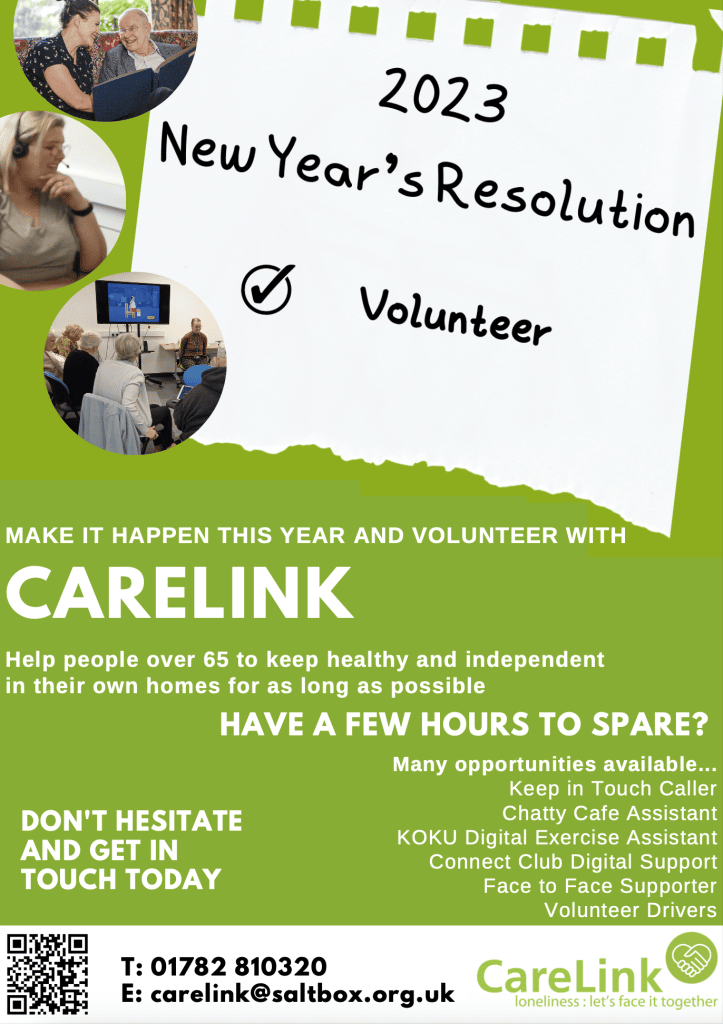 VOLUNTEER CASE STUDIES
Just as every one of our clients is different, so is every volunteer. If you're unsure of whether volunteering at CareLink is the right fit for you, take a look at some of their stories as they discuss their motivations for volunteering, the experiences they've had and what they've gained from being with us.
SUE'S STORY
I had joined the CareLink as someone receiving the calls after I'd gone through a really tough time in my life and was suffering from withdrawal, depression and declining mental health. As part of me getting back to my old self, I've found it so beneficial to do something that takes me away from my own thoughts for a time and to focus on helping others who may still be in the position I was in when I needed the phone calls.
I have support from the CareLink team still when I feel as though I might be slipping back into myself, and have learnt new skills, which I'm proud of. And of course, the people that I call say they are cheered up when I call. Sometimes they're down and I offer them encouragement and comfort, and it's a real lift to hear how they have sometimes transformed during a call.
Sometimes we need to be there to be a shoulder to cry on. Our clients struggle with their own ill health or concerns for a loved one, loss of friends and loneliness. One client that I call regularly is currently awaiting detox treatment for an addiction and I'm helping to keep her spirits up.
There is a responsibility that comes with what we do. But more often than not I find myself chatting about holidays, family – and bingo! They enjoy the chat and so do I; it's a win-win!
I have encouraged a family member to come along and volunteer as well because she saw CareLink helping me when no one else was there. As an added bonus, I've also made friends with other volunteers and I'm growing in confidence all the time.
NICKIE'S STORY
I have always loved working and spending time with older people, which comes from having worked in residential care homes over the years. Now I'm a professional carer of a different sort – to a young foster daughter with complex needs – but I've never lost the enjoyment in nattering to older people. Especially since my nana passed away a few years ago, I really miss gossiping with her about everything and nothing.
On the calls we chat about lots of different things such as family, reminiscences of younger days, day-to-day life and hobbies. One person likes to talk about the latest episode of Most Haunted on TV and another about decorating.
They all have different quirks and differences, which make them fabulous and enjoyable to chat to!
I'm a voracious knitter and crocheter, and one of my ladies I always end up talking to about knitting patterns of what we're working at the moment. I sometimes even take my projects in and discuss them with her while I'm working on them!
Another gent recently lost his wife. He has been struggling, not only with his grief, but also with guilt arising from the fact that she hadn't been at home in her last days; she had been in a residential care home suffering from dementia and hadn't recognised him for some time. He's doing better now and has thanked me more than once for being there when the one thing he needed most in the world was for someone to listen to him while he spoke about it.
Volunteering at CareLink gives me a huge sense of achievement because you can definitely tell the huge impact that being there for all our friends makes. They regularly say how much they appreciate the calls and look forward to hearing from us. They often sound down when I call but by the end their mood is much happier and I leave them laughing.
I would definitely encourage others to volunteer. It makes such a difference to the clients and the volunteers themselves. You get to meet new people throughout the community and have lovely chats with the clients, learning something new each time. I love the flexibility because I can fit my time at CareLink around my role as a foster carer, and it helps me feel good that I am doing something useful for someone else.
BILL'S STORY
I had always planned to volunteer when I retired. But I'm in my late 80s now and, as inevitably happens, my social circle has shrunken with the loss of my wife and a number of my dearest friends. And so, with more time on my hands than ever, I felt called to volunteer at CareLink after hearing Saltbox's Lloyd Cooke give a talk at Swanbank Church where I was already coordinating the Tuesday club for older embers.
Of course you can never replace people that you have lost, but I feel strongly that being at CareLink has helped me forge meaningful new relationships with people, both with the staff and other volunteers and with those that I speak to over the phone. We talk quite a bit about how the city looked many years ago and what we would get up to as kids. You end up finding that you've got lots of common ground with folks – and it makes us feel young again! I'm also keen on wildlife and there's one person I talk to who shares my interest, which always makes for a great chat.
When you get to our age, quite a lot of people only get services coming to help with physical care needs, but there's still a real need for friendship that can go unanswered.
There is one client who moved into a new home. But her real need probably started after she'd moved in because with no family support around her she found it hard to adjust or to even motivate herself to unpack. That meant that she didn't feel relaxed and it was becoming a vicious cycle of stress. I supported, helped her to focus on herself and encouraged her to unpack and settle in properly. We got there in the end, and she often mentions to me how grateful she is to have had that constant presence at the end of the phone during such a difficult time.
There are plenty more people who could contribute to their local community but do not often know they have skills that could be beneficial to others. The skills I acquired through my work and general life experience are still there and are best used in the service of helping others less fortunate than myself. Older volunteers bring a dynamic outlook on the world and are just as suitably skilled to help others, so I will continue to reach out to my retired friends and acquaintances to encourage them to see if they can help too.
SARAH'S STORY
I have always worked with older people in my previous role as a carer but had recently lost my job and felt my confidence and self-esteem slipping. I decided that getting involved in CareLink – a service that helps others by making a difference in their lives – would help me to build myself back up and give me an opportunity to gain new skills that might help me back into work.
Plus, volunteering has helped me to keep some structure to my week which you miss when you're not working.
I've worked with older people for a long time, but I'm still surprised by the range of conversations that I have. As well as all the usual chitchat about daily goings on and trips to the doctor, I can cover anything from watching kids through the window making mud pies to baking real pies! One client is a train and bus enthusiast so likes to talk about them each call, which is actually quite interesting.
I've just about to start a new job but I will keep in touch; the staff and volunteers are a nice bunch of people who work well as a team and I've made some genuine friends.
If anyone lacks confidence or they have been out of work for a while, I would definitely tell them that volunteering for CareLink will provide them with something useful and worthwhile to do with their time.