On 13 June 2018, we will be joining forces with the Stoke-on-Trent Repertory Theatre to raise money for CareLink. There will be a production of 'Nell Gwynn' from which the theatre will kindly donate £5 from every ticket sold to our service. We'll also be running a prize raffle and have collection buckets available on the night. In our latest blog interview, we speak to Charlotte Murfin, CareLink Admin Support Officer, who has a background at the Stoke Rep Theatre and has been instrumental in setting up the event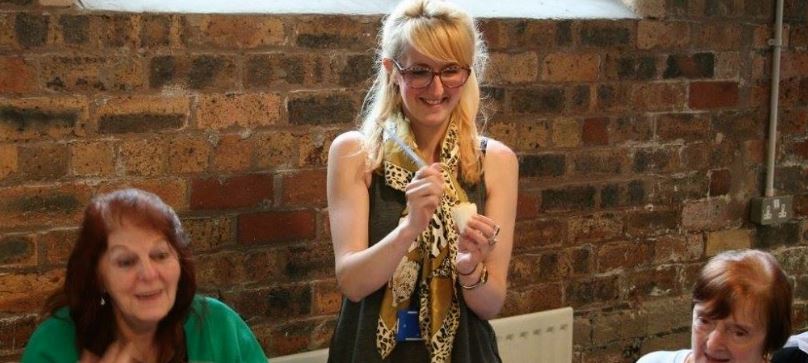 Tell us a bit about the upcoming Nell Gwynn production at the Stoke-on-Trent Rep Theatre.
Nell Gwynn, who will be played by Shelly Rivers, is a modern comedy set in Restoration Britain. It is running from Tuesday 12th – Saturday 16th June, with a charity night for CareLink on Wednesday 13th June. Tickets for the play are £11, and performances start at 7:30pm – 10.00pm (approx).
How will the production be supporting Carelink?

CareLink is a project that is part of Saltbox – a local charity, established and running within Stoke-on-Trent. CareLink uses telephone befriending to support people over 50 who are struggling with the effects of loneliness and isolation. It helps to keep them healthy and independent in their own homes for as long as possible.
On Wednesday 13th June, The Rep Theatre will be supporting CareLink in hosting a charity evening. This means that £5 of your ticket money, if you book through ourselves at CareLink, will be kindly donated back to our cause.
We will be holding a raffle on the night, and we will also have collection buckets for any further donations. Any donations made will continue to support Carelink and the valued service we provide throughout the local community.
How did your background with the Rep Theatre come about?
I graduated with 1st Class BA (Hons) in Music Theatre. During this time I explored adventurous and innovative practices in devising music theatre works. I was a two-year member of the university's chamber choir, singing at prestigious events/ceremonies and touring parts of southern France. After my studies, I became a Professional Actor for T.I.E. companies (Theatre in Education). Here, through drama, dance and song, we'd tour schools, raising awareness on key issues that young people face.
I'm originally from Leek and joined The Stoke-on-Trent Rep Players in 2013. I've performed in varies plays with The Rep, from classic period dramas such as Shakespeare & Dickens, to more contemporary pieces such as the works of Alan Ayckbourn. I also perform with other visiting companies that will use The Rep as their chosen venue. I developed my career working as an Arts Development practitioner/co-ordinator for community-focused groups. In the past, I was the vocalist within a Latin/jazz quintet, and I continue to work with 'Drumshack', exploring Afro-Cuban vocal and percussion.
Alongside this, I continue to support Saltbox, recently singing at the Civic Prayer Breakfast, held in April 2018, as well as their OPEN forums in the past.
The Rep Player's themselves produce five productions throughout each season. You can find further information on their website about how to get involved and future productions.
What do you enjoy most about working for CareLink?
CareLink is a lifeline to our clients and I feel proud to be part of a team who enable and encourage people to live their life to the full, against all odds – Our clients are quite inspirational.
How can people get tickets?
Further information on how to book tickets for the Charity Evening (Wed 13th June), can be obtained via at CareLink on, 01782 810320, extension 2.