The purpose of our Restart service is to assist those previously labelled as an 'offender', helping them rehabilitate and reintegrate back into society. We recognise that our clients have, in a lot of cases, experienced a lifetime of personal challenges. Our goal is to do everything we can to help them get their lives back on track as valued members of society. Our dedicated Restart team provide support and guidance on a daily basis, whether that be through housing advice, employability training and life skills development.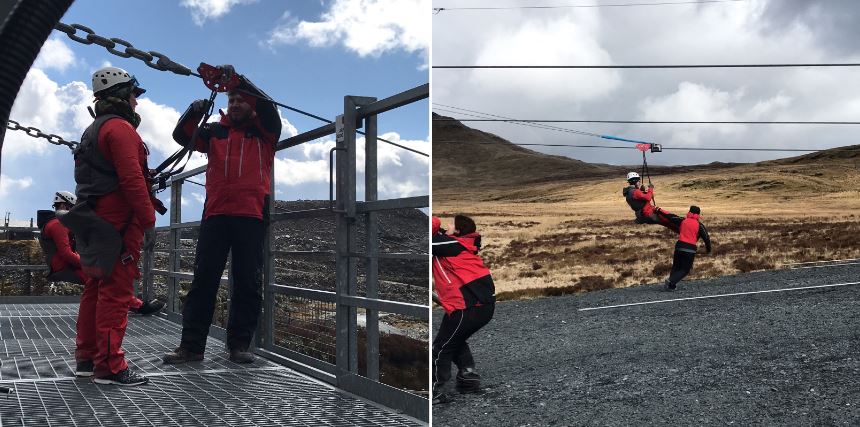 Recently, we had the opportunity to take this a step further and do something a little different for our clients. In March 2018, eight of our service users enjoyed a recreational activity day at 'Zip World Slate Caverns' in Wales.
We pick up with Saltbox's Restart Chaplain and organiser, Thomas Simm.
"Earlier this year Saltbox received a grant from the Lichfield Diocese Growth Fund. The grant allowed us to take clients who typically come from a poverty-stricken background in Stoke-on-Trent to a similar location elsewhere in the UK. It's important to remember some of our clients haven't really been outside of Stoke before so the aim here really was to broaden their horizons"
And what better way to do this than on 'The Titan' – currently the largest zip line zone in Europe – located at Slate Caverns, Blaenau Ffestiniog, Wales. The group was able to enjoy some stunning views while sailing over 2,000 metres across the Welsh mountains and quarry.
"We wanted our clients to experience some new frontiers" says Thomas, "And by flying over the top for the world at up to 40mph they certainly got a different perspective"
"We chose clients who had been engaging well with the Restart service and who we felt would benefit from the trip. From our perspective, it was also an opportunity to build closer relationships outside of the usual service environment."
Tom, who worked in the prison service for several years prior to joining Saltbox in February 2017, is a firm believer in Restart's support and rehabilitation work.
"Nobody is born to commit a crime. In most cases, circumstances have dictated the choices people have made. At Restart, we aim to get their lives back on track, open doors and help them realise their potential. It's all about helping individuals grow in both humanity and education, develop life skills and positive social interaction".
We asked Thomas if he hoped to see more trips further down the line.
"The trip to Wales went down extremely well. We all really enjoyed it and the clients appreciated the opportunity. It's the first time we've done something like this and we'd welcome similar opportunities going forward. Perhaps go-karting or something similar. That would be very popular with the service users."
Saltbox's Restart Director, Gill Butler said "The guys that went on the trip had a great day and were all buzzing when they got back, it was great to see.  We are keen to continue with this sort of activity because we feel it is important that our clients feel valued. I may even go along to the next activity to give them a run for their money!"
To find out more about Saltbox's Restart service, and how it helps to reintegrate individuals back into society, please visit our new website – saltbox.org.uk/restart/